Performing the dissolution test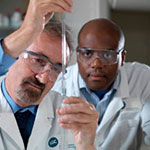 Many customers perform the dissolution test procedure as per United States Pharmacopoeia (USP) general chapter <711> by using Prednisone tablets as reference standard. However, we are often asked for advice by customers who have found too high values which are out of specification. They all attribute these OOS to the quality of the prednisone tablets. However, in most cases the cause of the problem is not the tablet.
Degassing often not sufficient In two out of three cases, the degassing (or deaeration) of the medium was insufficient. In the dissolution chapter, USP notes that "Dissolved gases can cause bubbles to form, which may change the results of the test. If dissolved gases influence the dissolution results, dissolved gases should be removed prior to testing". Regarding this statement, a footnote of the general chapter <711> describes a method for degassing: "One method of deaeration is as follows: Heat the medium, while stirring gently, to about 41, immediately filter under vacuum using a filter having a porosity of 0.45 μm or less, with vigorous stirring, and continue stirring under vacuum for about 5 minutes. Other validated deaeration techniques for removal of dissolved gases may be used".
This procedure is not the most user-friendly method, so investigators often use nitrogen purging or other techniques for deaeration, which is more implementable. However, if the results of the dissolution test are out of specification, one should take a closer look at the deaeration procedure and maybe try to use the method described in the footnote of general chapter <711> or as mentioned in the "Dissolution Toolkit" from the USP. If you need further information about the "Dissolution Toolkit" or technical advice for using the dissolution test regarding USP general chapter <711>, please contact your local LGC Standards office

Print view