Malt Analytes (MAPS)
Our MAPS proficiency testing scheme covers test materials from the full range of barley and malted barley used for brewing and distilling. Malt is a complex product and forms a key ingredient in brewing and distilling. It is considered to be at the heart of the process, providing most of the sugars and complex carbohydrates which produce the alcohol and flavour of the final product.
These test materials are analysed for a wide range of analytes, using European Brewing Convention (EBC) and Institute of Brewing and Distilling (IBD) methods, as well as a number of other physical andchemical methods.
Meeting the demanding specifications laid down by brewers and distillers is critical to the business of any maltster and is greatly dependent on the quality of the malting barley. For this reason the accuracy of your laboratory analysis is essential, as it will ultimately decide if the product is suitable for use in the production plant.
{{ "PT Malt Analytes Accreditation" | truncate(70) }}
{{ "Please see individual products for specific accreditation status" | truncate(70) }} See our accreditations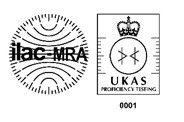 ---
Scheme Information
Round
Despatch Date
Reporting Deadline
---
{{product.accreditations[0].name}}
{{product.shortStockMessage}}

{{product.stockmessage}}
{{errored.message}}
No product found