Animal Feed (AFPS)
Our Animal Feeds Proficiency Scheme (AFPS) is specifically designed to meet the needs of laboratories performing chemical or microbiological analysis of animal feeds.
Animal feed quality is highly regulated since many animals, or their products, will ultimately be converted into food for human consumption. Major food safety crises have occurred as the result of contamination of animal feed, causing risks to animal and human health. The resulting recalls cause significant financial damage, as large quantities of product have to be destroyed, and considerable reputational damage to the businesses involved.
Participation in our LGC AFPS Proficiency Testing scheme can form part of a comprehensive quality system that seeks to promote high standards and avoid potential risks such as recalls.
{{ "PT Animal Feed Accreditation" | truncate(70) }}
{{ "Please see individual products for specific accreditation status" | truncate(70) }} See our accreditations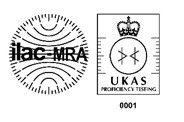 ---
Scheme Information
Round
Despatch Date
Reporting Deadline
---
{{product.accreditations[0].name}}
{{product.shortStockMessage}}

{{product.stockmessage}}
{{errored.message}}
No product found