Dairy Chemistry (QDCS)
Our Quality in Dairy Chemistry Scheme (QDCS) is a comprehensive proficiency testing scheme available to laboratories performing compositional and safety analysis in the dairy sector. Laboratories may test dairy products to ensure a commercial product performs within preset quality standards, or to look for adulterations or contaminants that could adversely affect a product.
For laboratories that perform analysis of dairy products using traditional 'wet' chemistry techniques, as well as determinations by infrared analysers and other methods, participation in a relevant LGC Proficiency Testing scheme can provide confidence that results are meaningful and accurate which, in turn, helps to ensure the safety of dairy foodstuffs.
{{ "PT Dairy Chemistry Accreditation" | truncate(70) }}
{{ "Please see individual products for specific accreditation status" | truncate(70) }} See our accreditations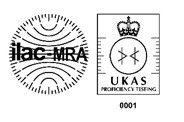 ---
Scheme Information
Round
Despatch Date
Reporting Deadline
---
{{product.accreditations[0].name}}
{{product.shortStockMessage}}

{{product.stockmessage}}
{{errored.message}}
No product found