Food Chemistry (QFCS)
Our LGC Quality in Food Chemistry Scheme (QFCS) is specifically designed to promote quality and comparability in the measurement of a range of analytes in food p,roducts.
Technology now allows suppliers to harvest, preserve and distribute within a short period of time, so an incredible variety of foodstuffs are available worldwide and year-round. Consequently food quality, consumer satisfaction and government regulations are all factors that need to be considered when producing food.
The food we eat can contain potentially harmful chemicals, some naturally occurring, some as contaminants absorbed from soil and water. Testing these end-use products is fundamental for food safety and stability. Consistent good performance in one of our Proficiency Testing schemes will allow laboratories to show, with confidence, the quality of their results to third parties.
{{ "PT Food Chemistry Accreditation" | truncate(70) }}
{{ "Please see individual products for specific accreditation status" | truncate(70) }} See our accreditations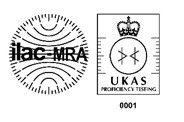 ---
Scheme Information
Round
Despatch Date
Reporting Deadline
---
{{product.accreditations[0].name}}
{{product.shortStockMessage}}

{{product.stockmessage}}
{{errored.message}}
No product found