Gelatine (QGS)
Our Quality in Gelatine Scheme (QGS) has been developed in collaboration with the trade body Gelatine Manufacturers of Europe (GME). GME members account for nearly half of worldwide gelatine production and GME's key role is to ensure that gelatine is manufactured to a consistently high quality, for the benefit of gelatine customers and consumers.
The most common use of gelatine is in the food and pharmaceutical industries, as well as in the cosmetics, photographic and printing industries.
If a laboratory is involved in the quality control analysis of gelatine, QGS provides test materials in gelatine and gelatine hydrolysate matrices to represent a realistic challenge, with relevant chemical, physical, and microbial tests.
{{ "PT Gelatine Accreditation" | truncate(70) }}
{{ "Please see individual products for specific accreditation status" | truncate(70) }} See our accreditations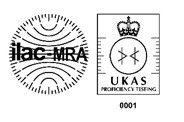 ---
Scheme Information
Round
Despatch Date
Reporting Deadline
---
{{product.accreditations[0].name}}
{{product.shortStockMessage}}

{{product.stockmessage}}
{{errored.message}}
No product found