Meat & Fish (QMAS)
Our Quality in Meat and Fish Analysis Scheme (QMAS) is intended for chemists and microbiologists working in or providing analytical services to the meat, fish and shellfish processing industries.
International consumption of meat and fish in human diets has increased rapidly, so manufacturing processes need to be highly regulated, to help prevent food safety issues occurring. Measures must be taken to prevent contamination with hazardous chemicals above specified limits, and to reduce the number of microorganisms capable of causing human disease. Customers demand products that are authentic and free of contamination from both deliberate fraud and accidental cross-contamination during processing.
Consumers want to be assured their food has been thoroughly tested by competent laboratories. EU Regulation 882/2004 requires official control laboratories to be accredited to ISO/IEC 17025 and to use external means of monitoring performance, such as proficiency testing.
{{ "PT Meat & Fish Accreditation" | truncate(70) }}
{{ "Please see individual products for specific accreditation status" | truncate(70) }} See our accreditations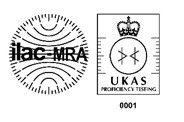 ---
Scheme Information
Round
Despatch Date
Reporting Deadline
---
{{product.accreditations[0].name}}
{{product.shortStockMessage}}

{{product.stockmessage}}
{{errored.message}}
No product found