NACRW 2020 - North American Chemical Residue Workshop - Date:TBC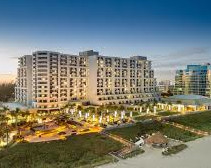 Workshop: Marriott Harbor Beach Resort, Fort lauderdale, Florida, USA.
Start Date:
End Date:
This event has been postponed. Further details to be confirmed, please check back soon for updates.
The North American Chemical Residue Workshop (NACRW) formerly the Florida Pesticide Residue Workshop (FPRW) conducts an annual meeting for scientists particularly interested in trace level analysis of pesticides, veterinary drug residues, and other chemicals in food, animal feed, and environmental samples. The purpose of the meeting is to provide training, develop and improve technical knowledge, facilitate development and distribution of new analysis methods and techniques, and establish networking to promote professional cooperation between scientists of these interests.