Pharmaceutical (PHARMASSURE)
Our UKAS-accredited PHARMASSURE proficiency testing scheme has been specifically designed to meet the needs of the pharmaceutical industry, with test materials provided for chemical and microbiological analysis, including sterility testing.
The regulations surrounding the manufacture of pharmaceutical products and laboratories testing them are wide-ranging, and compliance with GMP/GLP requirements is aimed at ensuring the safety and efficacy of all pharmaceutical preparations.
Regular participation in our PT scheme offers a truly independent assessment of measurement quality, which enables participants to compare their analytical capabilities with peers. Managers are also able to monitor trends in their laboratory's performance over time and enhance individual training as they take part in assessment. Successful participation in PHARMASSURE is recognised as a demonstration of laboratory quality and competency by a range of third parties, customers, regulators and accreditation bodies.
{{ "PT Pharmaceutical Accreditation" | truncate(70) }}
{{ "Please see individual products for specific accreditation status" | truncate(70) }} See our accreditations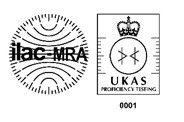 ---
Scheme Information
Round
Despatch Date
Reporting Deadline
Despatch Date
04 March 2019
Reporting Deadline
01 April 2019
Despatch Date
03 June 2019
Reporting Deadline
01 July 2019
Despatch Date
02 September 2019
Reporting Deadline
30 September 2019
Despatch Date
25 November 2019
Reporting Deadline
06 January 2020
Despatch Date
02 March 2020
Reporting Deadline
30 March 2020
---
PT Scheme: {{product.ptScheme }}
PT Scheme Group: {{product.ptSchemeGrp }}
Matrix: {{product.matrix3 |tostring }}
Analytes: {{product.analyteName | tostring }}

Showing all {{product.analyteName.length}} analytes for this product.

+ {{ product.analyteName.length - 1 }} more
---
Product Code: {{product.code }}
CAS Number: {{product.listCASNumber | tostring }}
See Analyte Data:

Showing all {{product.analyteName.length}} analytes for this product.

+ {{ product.analyteName.length }}
Molecular Weight: {{product.listMolecularWeight | tostring}}
Molecular Formula: {{product.listMolecularFormula | tostring}}
{{product.accreditations[0].name}}
{{product.stockmessage}}
{{product.mobileStockMessage}}
{{product.shortStockMessage}}