Toy safety (TOYTEST)
Our TOYTEST proficiency testing scheme is designed to work with the strict safety regulations that are in place to ensure that toys are appropriate for the target age group of children, and do not pose a hazard in use.
The scheme is intended to support laboratories testing to the key regulations in place in Europe and America, namely the EN71 standard in Europe and the ASTM F963 standard in America. A combination of physical toys and product information is provided over the scheme year, for assessment and testing according to the standards.
We also provide additional materials for analyses, ranging from solutions and paint flakes for heavy metals testing, to materials for kinetic testing, flammability testing, and dye analysis.
{{ "PT Toy Safety Accreditation" | truncate(70) }}
{{ "Please see individual products for specific accreditation status" | truncate(70) }} See our accreditations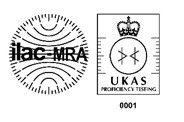 ---
Scheme Information
Round
Despatch Date
Reporting Deadline
---
{{product.accreditations[0].name}}
{{product.shortStockMessage}}

{{product.stockmessage}}
{{errored.message}}
No product found