Chocolate (QCS)
Our Quality in Chocolate Scheme (QCS) is intended for chemists and microbiologists working in the chocolate and cocoa powder manufacturing industries.
Chocolate products are one of the specific food commodities whose composition is controlled at European level. Directive 2000/36/EC, 'relating to cocoa and chocolate products intended for human consumption', sets common rules and definitions with regard to the composition, manufacture, packaging and labelling of chocolate and cocoa products.
Consumption of contaminated chocolate is rare, yet there have been sporadic global outbreaks which have led to product recalls. The consequences can include damaged reputations, possible legal actions resulting in huge financial damage, and more. A comprehensive quality assurance programme which includes regular participation in a suitable proficiency testing scheme may help to safeguard against such negative outcomes.
{{ "PT Chocolate Accreditation" | truncate(70) }}
{{ "Please see individual products for specific accreditation status" | truncate(70) }} See our accreditations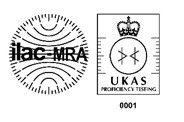 ---
Scheme Information
Round
Despatch Date
Reporting Deadline
---
{{product.accreditations[0].name}}
{{product.shortStockMessage}}

{{product.stockmessage}}
{{errored.message}}
No product found