Food Microbiology (QMS)
Our LGC Quality in Microbiology Scheme (QMS) is intended for use by microbiologists working in the food industry, including the dairy, ready meals, dried foods, herbs and spices and many other sectors.
Food testing is an essential element of the 'Hazard Analysis Critical Control Point' (HACCP) process in food production, as it verifies that controls are working at the critical points in manufacturing. Failures leading to food poisoning outbreaks can have a devastating effect on reputation and brand value, and may lead to a decline in consumer confidence in the product and ultimately in profits. In rare cases it may also lead to civil and criminal charges.
Laboratories carrying out microbiological testing need to be able to demonstrate that they are producing accurate and meaningful results to help identify problems before they affect the quality and safety of products. A comprehensive quality assurance programme can support these efforts, including regular participation in an accredited proficiency testing scheme.
{{ "PT Food Microbiology Accreditation" | truncate(70) }}
{{ "Please see individual products for specific accreditation status" | truncate(70) }} See our accreditations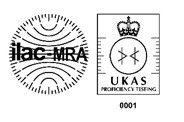 ---
Scheme Information
Round
Despatch Date
Reporting Deadline
---
{{product.accreditations[0].name}}
{{product.shortStockMessage}}

{{product.stockmessage}}
{{errored.message}}
No product found