Air & Stack Emissions (AIR PT)
Our AIR PT scheme is a partnership between LGC and the UK Health and Safety Laboratory (HSL). The scheme is operated by LGC and is supported by the technical expertise at HSL. The scheme combines our scientific and production expertise in different areas, providing an integrated scheme for all laboratories undertaking analysis of samples from various fields of air monitoring.
We take air for granted: it is ubiquitous, essential, and life-giving. However, it is easily polluted by our activity and so requires regular monitoring to assess exposures and the effectiveness of containment or ventilation. Many everyday activities create air pollutants with known or suspected harmful effects on human health and the environment. Such pollution can cause both short and long term effects on human, plant and animal life.
Participation in the AIR PT scheme supports a laboratory's quality system in the monitoring and measurement of air quality in a wide range of contexts.
{{ "PT Air & Stack Emissions Accreditation" | truncate(70) }}
{{ "Please see individual products for specific accreditation status" | truncate(70) }} See our accreditations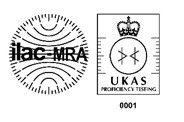 ---
Scheme Information
Round
Despatch Date
Reporting Deadline
---
{{product.accreditations[0].name}}
{{product.shortStockMessage}}

{{product.stockmessage}}
{{errored.message}}
No product found